Neuro Physical Therapy
Overcome disorders of the central nervous and vestibular systems & return to function following concussions.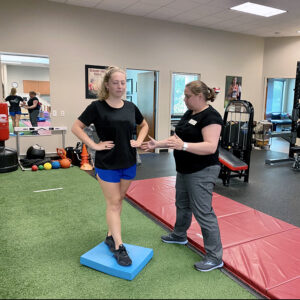 Neurological Physical Therapy
Neurological physical therapy involves the assessment and treatment of people with disorders of the central nervous system that affect the brain, spinal cord, and nerves.  Common diagnoses we treat include Multiple Sclerosis, Parkinson's Disease, stroke, and general balance disorders. 
Neurological physical therapy works to stimulate the nervous system through therapeutic activities designed to help a patient learn new ways to move.  Treatment plans are unique to individual conditions and focus on improving cardiovascular function, strength, movement, balance, and overall coordination.  
Our neurological PT is Rob Volstad.  He has experience in this field from working in both hospitals and nursing homes, including three years on the NeuroSciences Unit at Duke University Medical Center. 
Vestibular Rehabilitation
Vestibular Rehabilitation addresses symptoms of dizziness, vertigo, nausea abnormal eye movements, and difficulty with balancing or walking caused by vestibular disorders.  Our treatment plans incorporate repositioning techniques, patient education, and home exercises.  Trinity therapists, Megan Alexander and Rob Volstad share a special interest in this area. In 2006 Rob became a Certified Vestibular Rehabilitation Specialist.  Since that time, he has focused the majority of his care on patients with dizziness, vertigo, and balance problems and is passionate about serving those struggling with these issues. 
Common vestibular disorders treated include:
Benign Paroxysmal Positional Vertigo
Vestibular Neuritis
Labyrinthitis
Vestibular Migraine
Concussion Rehabilitation addresses symptoms that occur following a concussion. Regular evaluations and guided assistance are often necessary to allow a full return to activities. This guidance is particularly important for our athletes in returning them safely to sports. Concussion Rehabilitation addresses headaches, neck pains, dizziness, balance difficulties, weakness and hypersensitivity to exercise. Rob Volstad brings a lot of experience in this area, having served as the Concussion Specialist for the Carolina Hurricanes hockey team for nine seasons.
Excellence • Compassionate Care • Prevention
A

Hands-On

Approach to

Physical Therapy
If you or a loved one is suffering from a painful physical condition, let Trinity Wellness Center assist you in making tomorrow a better, healthier day.  We look forward to meeting you and helping you achieve your goals!